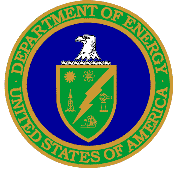 EMF Engineering Review Symposium
Status and Summary of EMF Engineering Research
April 28-29, 1998
Sheraton Charleston Hotel
Charleston, SC
Organized by the United States Department of Energy
Last updated: July 6, 1998
---
The Proceedings of EMF Engineering Review Symposium are available below in Portable Document Format (PDF) for reading and printing with such tools as Adobe Acrobat or Ghostscript. File sizes are indicated in square brackets.
Adobe Acrobat is available without fee from Adobe, Inc. Ghostscript is free software and is available from the University of Wisconsin.
Download each portion of the document individually by selecting the appropriate link below, or download all at once in a ZIP archive [2424K] or gzip'd TAR archive [2420K].
---
Proceedings
Topic #1: The RAPID Engineering Program and Technical Perspectives
Topic #2: Field Parameters
Topic #3: Instrumentation and Measurement Technology
Topic #4: Exposure Systems
Topic #5: Quality Assurance
Topic #6: Field Computation Models
Topic #7: Source and Environment Characterization
Topic #8: Personal Exposure Characteristics
Topic #9: Modeling EMF Personal Exposure
Topic #10: Surrogates for Personal Exposure
Topic #11: Occupational and Non-Residential Exposures
Topic #12: General Public Exposures
Topic #13: Field-Management Technologies
Topic #14: Policy Implications