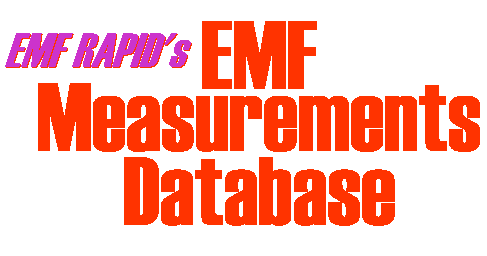 Contents:

The EMF Measurements Database is a project sponsored by the U.S. Department of Energy through the EMF Research and Public Information Dissemination (EMF RAPID) Program. The purpose of the project is to make measurements of electric and magnetic fields publicly available.

Accessed times since December 4, 1996
Last updated: September 15, 2000
Each numbered link will take you to the data set's metadata, describing the data set in more detail. The data sets are numbered in the order that the data are made available. From the metadata, you can reach the associated data products. Please read and understand the conditions and lack of warranty associated with each data set.
001

Personal 24 Hour Emdex Pilot Project: Lynne Gillette and Doreen Hill, EPA, 1992.

This project involved twenty volunteers who wore EMDEX C meters for 24 hours (including a typical work/school day) and logged information about their activities and possible sources of magnetic fields they encountered. Most of the subjects (18) were federal office workers, one was a middle school student, another was a horse stable operator. Magnetic fields in the ELF range were collected at 10 second intervals.

002

Household Appliance Magnetic Field Data: James R. Gauger, IITRI, 1983.

Status: Updated on March 3, 1998 (Correction)

The results of a non-comprehensive survey of the 60-Hz magnetic fields produced by common household appliances and tools are reported. Maximum magnetic field levels as a function of distance for 95 appliances of 27 basic types are characterized by measurement. The measurements represent the highest magnetic fields generated by the appliances in any normally accessible direction from them. All sets of measurements but two were made at the fundamental powerline frequency of 60 Hz and all represent narrowband rms levels of magnetic flux density. Measurements at powerline harmonic and other frequencies were not made. The data presented should be useful in understanding the levels of magnetic field produced by household appliances and also in estimating magnetic field exposures in homes and workplaces.

003

DOT Conventional Vehicle Study: Electric Research and Management, Inc., 1997.

Status: Updated on March 17, 1998 (Correction)

Five vehicles were measured using the MultiWave wave capture device over 9 road types in multiple positions within each vehicle, in 57 sessions. Up to 12 3-axis magnetic field probes were deployed simultaneously. Additionally, external measurements were performed around the perimeter of each vehicle. The purpose of the study was to help characterize the magnetic field environment in conventional transportation environments. The data collected are intended to serve as a baseline against which other existing and emerging transportation technologies, such as electric vehicles, can be compared.

004

DOE EMF RAPID Engineering Project 3: "Environmental Surveys" Luciano Zaffanella, Enertech Consultants, Inc., 1996.

Status: Data available (metadata is currently only in PDF format, html to follow).

Magnetic field surveys were performed at four sites for each of five environments: schools, hospitals, office buildings, machine shops, and grocery stores. Of the twenty sites surveyed, 11 were located in the San Francisco Bay Area and 9 in Massachusetts. The surveys used a protocol based on magnetic field measurements and observation of activity patterns, designed to provide estimates of magnetic field exposure by type of people and by type of sources.

005

DOE Office Worker Study: Patricia Hogue and Michael Yost, DoEH, University of Washington, 1995.

Status: Data available (metadata is currently only in PDF format, html to follow).

70 office worker subjects from 12 office buildings from a large employer in Seattle were measured on 3 non-consecutive 24-hour days using EMDEX-II and EMDEX-Lite data loggers. Associated areas were measured using a LINDA wheel system. The purpose of the study was to characterize work magnetic fields in a population of office workers, to compare residential and occupational magnetic field exposures, and to assess different measurement protocols (spot, personal and area measurements).

006

Survey of Personal Magnetic Field Exposure, Phase II: 1000-Person Survey Luciano Zaffanella, Enertech Consultants, Inc, 1998.

Status: Data available (metadata is currently only in PDF format, html to follow).

1012 randomly selected persons residing in the United States were measured with EMDEX PAL data loggers for 24 hours. Households were identified using random listed telephone numbers and a member of the household was selected to be measured. All measured persons agreed to participate. Measurements are summarized by person and by activity status for each person. Activity stata summarized are: at home; in bed; school; work; travel and other. Weights are provided for each participant to allow computation of unbiased estimators.

The final project report for the study is also available here. It is in PDF format and in 12 pieces totalling about 8 megabytes.
---
Contributing
If you've got a data set and don't see it in this list, please contact us to see about contributing. Your contribution can lead to the enrichment of the scientific community and to greater scientific enlightenment.
There is also an option to maintain control of the data and contribute only metadata about your data set. That way, users of the EMF Measurements Database can be made aware of your data even though it isn't available directly from us.